Heaven and Earth Collide
Written by Melia Ozbun
When most people think of the word worship, there are probably similar things that come to mind.
Praise songs sung by melodious voices, finely tuned instruments that are neither too loud nor too quiet, great spotlighting and epic fog machines are just a few things which may top the list.
And since worship is categorized as one of the corporate spiritual disciplines, rather than an inward or outward discipline, it might be easy to think this one is by far the easiest. We might even assume we accomplish this weekly because we sing along with our church's worship band, right?
Don't get me wrong; I truly appreciate worship leaders who can center our attention on Christ through music and song. Because of their leadership, I have had many times where I have been deeply moved in this type of setting.
I also admire and, to be honest, am even slightly envious of talented musicians who can carry a tune and play multiple instruments well.
However, I am also inclined to believe Almighty God has a grander purpose in mind for us when He calls us to worship Him.
The Psalms are rich with verses about what this act looks like.
Give to the Lord the glory of His name; worship the Lord in holy splendor. Psalms 29:2
Oh come, let us worship and bow down; let us kneel before the Lord, our Maker. Psalms 95:6
Worship the Lord in the beauty of holiness; tremble before Him, all the earth. Psalms 96:9
"We will go to His dwelling place, we will worship at His footstool." Psalms 132:7
A simple definition of worship is reverent honor and homage paid to God.
But based on these Psalms, this process sounds like a much more intense experience than a weekly church service when sometimes our thoughts can be more focused on what's for lunch than about our Savior.
Worship, according to Richard Foster's book, Celebration of Discipline, is an ordered way of acting and living that sets us before God so He can transform us.
Therefore, I believe worship can take on all kinds of forms, and it may look different for everyone.  
For me, at times, worship is a very personal and a deeply emotional experience, and it doesn't always include a melody.
I have worshipped God while planting in the mud and the mire during spring. I have deeply connected with the Creator of the universe with my own hands in the dirt while reflecting on His hands, which formed Adam from the dust of the ground.
I have revered God when I have cleared away the last of fall's debris to see new green life popping through the once barren dirt. I have been overcome with hope, as I believe it is evidence of what He can also do in my own barren heart and life. And, although this phenomenon happens every spring season, I never tire of seeing it.
I have been in awe of God holding everything together on the first warm, sunny day after a harsh winter. I have sat on my deck and felt the sun shine on my face and pondered the promise of Numbers 6:25, "…the Lord make His face shine upon you, and be gracious unto you."
It is in moments like these that I believe I experience authentic worship.
However in life, frustration, hardships, disappointment and tragedy come, and in those times, aloofness creeps in. The last couple years have brought extreme pain with unexpected deaths of my beloved aunt and dear cousin, and it has been hard to muster the energy to have a worshipful mindset. Doubts and questions have consumed me.
It is during these difficult times, I must recall what God has shown me time and time again while in His presence. These events of worship have transformed me. They have set me before God and deepened my understanding of His ways. At times, these encounters have altered my viewpoint of how heaven and earth collide.
Write this Way:
As the days grow longer, take time to watch the sunrise or sunset. Don't be distracted to pull out your phone to take a picture. The photo never does it justice anyway. Just gaze at the sky. Take note of the hues of colors and where the clouds are placed. Notice how it changes in just a matter of minutes. Walk up to one of the trees in your yard. Examine it closely and look at the buds that have started to form. During every season, be in awe of God's handiwork and pay close attention as you begin to sense His presence in that moment.  
About the Author: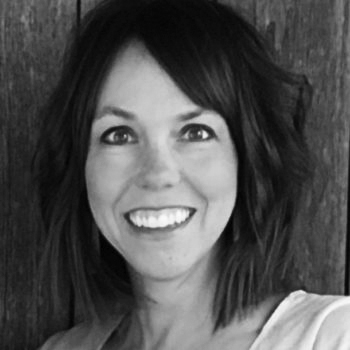 Melia Ozbun has the privilege of working with elementary students with special needs during the school year. Most days, she believes they teach her more than she could ever teach them, particularly about life and love. A Muncie native, Melia is a wife to an endurance sports nut, a stepmom to a middle schooler who currently knows it all, and a slightly obnoxious food snob. God's creation awes her and she is an avid camper, hiker, and kayaker. When she is not in search of good eats, she can be found in a nearby state park.