Ephesians 3:16-19
I pray that out of his glorious riches he may strengthen you with power through his Spirit in your inner being, so that Christ may dwell in your hearts through faith. And I pray that you, being rooted and established in love, may have power, together with all the Lord's holy people, to grasp how wide and long and high and deep is the love of Christ, and to know this love that surpasses knowledge—that you may be filled to the measure of all the fullness of God." 
With the anticipation of the arrival of each of my children, I spent a lot of time flipping through books about name meanings. The meaning of a name was something important to my husband and me, so we sifted through several options before settling on our final choices. I loved reading about the different names, their origins, and how common they were!
While praying for my youngest child (who is adopted), I found myself praying Ephesians 3:16-19 over her – even before we had a glimpse of her sweet face. Every word of these verses was what I wanted our daughter to know, but, being ROOTED IN LOVE became a mantra in my head. While I'm not much of a gardener (I really have tried….I'm a great gardener in May, but not so much by the time August rolls around), I grew up in a farming family and community. Being rooted has always been a powerful image to me; whether it meant being rooted in relation to crops, in a family, or in Christ. When it came time to choose a name for our daughter, we knew right away when read its meaning: 
Haddie (derived from the name Hadassah) means Myrtle Tree, and these trees are known for their beautiful, fragrant flowers and their quick-growing, wide-spreading roots. 
Our hope for our newly adopted daughter was that she would feel secure, safe, and loved by her new family so that she would be allowed to blossom in her own unique way. We hoped that even though she was already a toddler, she would spread her roots and have what she needed to become rooted in our family. We knew loving and supporting her might look a little different than it did with our other children. Still, we hoped to surround her with a family, cultural connections, and support systems to allow her to ask questions, experience a range of emotions, and grow into a healthy, vibrant adult.
Soil dramatically affects how a plant will grow. It's where the roots receive the water and nutrients needed to thrive. Even though I grew up as the daughter of a livestock farmer, it was not uncommon to hear about the soil of nearby fields as we went on regular Sunday drives to check out the crops. Caring for the earth and not stripping it of its valuable resources is crucial, which is why farmers are strategic in planning crop rotations. It's an ongoing process to care for the soil each year. 
Last year, after an extremely wet spring, farmers near my house were struggling with some of their fields. Some were not able to plant the corn they would have normally planted. So instead, they planted cover crops (radishes, turnips, etc.) that are never harvested to increase the organic matter in the soil, aerate it, and prevent it from eroding. It's wonderful for helping to prepare the soil for the following year….except that the vegetables are never harvested, and rotting vegetables smell terrible for all in the vicinity!
If we consider the soil in which we are planted, would we say it's providing the kind of nourishment we need to be rooted and established in love? Are we allowing Scripture, our prayer life, and our actions to reflect and provide the necessary fuel to foster growth in Christ? What kind of nourishment do we need to become more rooted in the love of Christ? 
The woman who discipled me in college taught me to pray Scripture over myself and others, and I would invite you to consider doing that with this passage from Ephesians as you prepare for your day. Substitute a specific name for the "you" in the passage as you read these words. Consider what it might mean for each person to be filled to the measure of all the fullness of God! Wouldn't that be amazing!?!
Daily Prayer:
I pray that out of his glorious riches he may strengthen _____with power through his Spirit in _____ inner being, so that Christ may dwell in _____ hearts through faith. And I pray that_____, being rooted and established in love, may have power, together with all the Lord's holy people, to grasp how wide and long and high and deep is the love of Christ, and to know this love that surpasses knowledge—that ______ may be filled to the measure of all the fullness of God.
Amen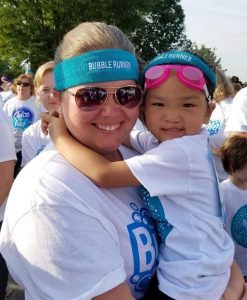 Jill Dubois joined Commonway as the Children's Pastor in 2012. She grew up in rural Wabash before venturing to Muncie where she studied elementary education at Ball State. Jill taught in a local school until she transitioned from the classroom to staying at home full-time with the birth of her first child. She finished her Masters Degree in elementary education just before starting this new adventure in children's ministry.  Jill and her husband, Kevin, live outside of Muncie with their three children.
If you aren't receiving the daily readings in your email and you'd like to, click HERE.