Habakkuk 1:5
Look at the nations and watch—and be utterly amazed. For I am going to do something in your days that you would not believe, even if you were told.
I was lying on the floor, at the end of myself. I wanted to die. I remember praying and begging Jesus for mercy. I desperately needed to be rescued from this pain, this heartache, and this anguish. I didn't want to hurt anymore. All I could feel was despair. I had lost everything. My relationships, my finances, all of it, were gone.
My way clearly wasn't working anymore. I could barely function. I needed an escape from this hopelessness. This was my last-ditch effort. Either God was going to make things better, or I wasn't sure how much longer I could take it. How much longer could I survive this trial?
I cried. I cried a lot.
I had met God years ago in a small Baptist church. However, it was in this looming pit of darkness, the pit of despair, where I truly got to KNOW God. My stubbornness was turning into submission. I laid on the cold floor, crying out, "Jesus forgive me, Jesus save me, I cannot go on another day!"
The next morning when I woke up, something was different. I got in my car to head to work. Most of my daily commutes were filled with silence and thoughts of hurt. However, this particular morning, I turned on the radio and desperately searched the stations.
"Surely someone is on air preaching, I need to hear from God," I thought to myself. As I urgently turned the dial, I heard a voice through the speakers, "Look out into the world and be amazed, for I will do a work in your days that you wouldn't believe even if you were told." The preacher on the radio was reading from the Book of Habakkuk. "You think I'm not working! You think I don't see what's going on!" The preacher spoke as if speaking for God. "I do see, and I am working!"
Something was different that morning. Something had changed. What was it?
Hope. Yes, hope! I had forgotten this wonderful feeling. I physically and literally felt a weight lifted off my shoulders that cold, but sunny morning. Despair is so very heavy.
My problems didn't go away that day. In fact, I had a long, hard road ahead of me. I had accumulated a mountain of debt, I had lost my job, my business had failed, my savings and retirement funds were empty, and my heart was broken because of devastating betrayal by a loved one. My world was completely upside down, and I had no idea what to do. Even still, hope and faith for a brighter future began to fill my heart. Hope had replaced despair.
It's amazing how life can change so quickly, for either good or bad. I've learned it's not always about the circumstances, although this is how it feels. The truth is, it's mostly about perspective. My circumstances didn't have to change for hope to abide in my heart, only my view of those circumstances.
God had heard my prayers, and with a few words from a radio pastor, I changed. Forever set on a new path. Renewed. I wanted to live again.
Daily Prayer
LORD God, help those of us who are in the pit of despair. Rescue us from the darkness. Help us to see there is still hope, and peace can still be found in Your Son, Jesus. Lead us back to the land of uprightness and bring joy back to our hearts. Help us to submit to Your ways, for our ways are flawed. I thank you LORD, for Your grace and mercies are new every morning. Amen.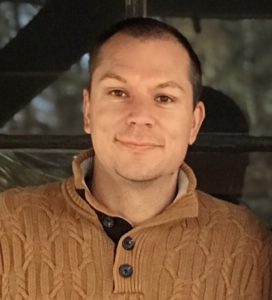 Shawn Ozbun is a data specialist for Ball State University, an independent podcaster and writer of many biblical topics, but most notably eschatology. He is also a lover and student of the scriptures, ancient writings and biblical Hebrew language. Born and raised in neighboring Randolph County, Shawn enjoys competing in endurance sporting events all over the state. He resides in Muncie with his wife and son.
If you aren't receiving the daily readings in your email and you'd like to, click HERE.
Join us for Sunday at 10:00am for worship at https://commonway.churchonline.org