On Saturdays, our prayers will be from those who have had great influence on our faith and our world.
Desmond Tutu
Today's prayer is by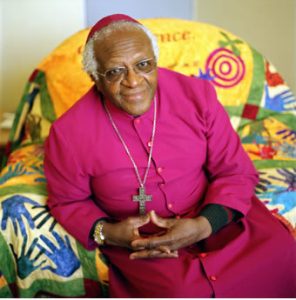 Archbishop Emeritus Desmond Tutu, adapted from an original prayer by Sir Francis Drake. Bishop Tutu (born October 7, 1931) is a South African Anglican cleric and theologian known for his work as an anti-apartheid and human rights activist. He was the Bishop of Johannesburg from 1985 to 1986 and then the Archbishop of Cape Town from 1986 to 1996, in both cases being the first black African to hold the position. He is internationally praised for his anti-apartheid activism, receiving a range of awards, including the Nobel Peace Prize.
Disturb us, O Lord
when we are too well-pleased with ourselves 
when our dreams have come true because we dreamed too little, 
because we sailed too close to the shore.
Disturb us, O Lord
when with the abundance of things we possess, 
we have lost our thirst for the water of life 
when, having fallen in love with time, 
we have ceased to dream of eternity 
and in our efforts to build a new earth, 
we have allowed our vision of Heaven to grow dim.
Stir us, O Lord
to dare more boldly, to venture into wider seas 
where storms show Thy mastery, 
where losing sight of land, we shall find the stars.
In the name of Him who pushed back the horizons of our hopes 
and invited the brave to follow.
Amen
If you aren't receiving the daily readings in your email and you'd like to, click HERE:  http://eepurl.com/gS-6In