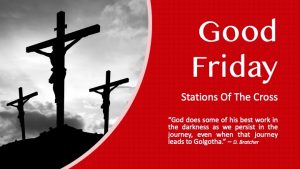 Welcome to Commonway's Online Good Friday Experience for 2020.
As we prepare to celebrate Easter, we pause to remember the sacrifice and suffering of Christ on Good Friday. It is important to slow down and walk the road with Him through a tradition known as Stations of the Cross. There are many versions of this meaningful process taking place in different denominations across the world.
This is a self-guided experience. Choose from either the Standard Version or the Fully Narrated version.
As you begin, there is a small list of 'supplies' you will want to have handy. You should expect this journey to take between 45 minutes and an hour (depending on your individual pace).
School-age children will be able to participate in their own level of understanding. Parents may want to do the stations on their own and then a second time with their children. (We have nothing but time, right?!)
Please share this invitation with your family, friends, and social media. So many are not able to participate in stations due to social distancing. We are very thankful for our team of volunteers who made this virtual experience possible.
Instructions
– The file may take a few moments to load
– Once loaded, at the top of your browser, click "Start Slide Show"
– As you complete each step/slide, click anywhere to advance to the next slide
– When you have finished the journey, would you please leave a comment at the bottom of this page as this will serve as our Guest Book for 2020
Choose a Stations of the Cross Experience
Sign Our Guestbook
Leave your name in the comments below to let us know that you participated.