"Here's another old saying that deserves a second look: 'Eye for eye, tooth for tooth.' Is that going to get us anywhere? Here's what I propose: 'Don't hit back at all.' If someone strikes you, stand there and take it. If someone drags you into court and sues for the shirt off your back, gift-wrap your best coat and make a present of it. And if someone takes unfair advantage of you, use the occasion to practice the servant life. No more tit-for-tat stuff. Live generously.
Matthew 5:38-42 MSG
Jesus…said some pretty wild things. 
People didn't always know what to do with it. 
In a lot of ways, we still don't.
Over the past few years, our family has had the privilege of helping lead an after-school club called 'Yorktown Connect.' Twice a month, a bunch of adults gather with nearly 80 fourth-grade and fifth-grade students. We laugh, play, and dig into the life of Jesus to uncover the attitudes and actions he is inviting us to apply to our own lives. 
One of the most memorable moments over the past few years was during a discussion into Jesus' experience surrounding "enemy love". Now, one might think that this sounds a little heavy for fourth and fifth graders. And, one might think that the golden rule would be less complicated to understand. Indeed, it would be A LOT easier, but Jesus wasn't aiming for easy, so why should we?
It turns out that these kids understand the meaning of an enemy all too well. They often feel attacked, targeted, and hurt by the people at school and at home.
This is real stuff for them. So we continued to dig into this through the Sermon on the Mount.
"You're familiar with the old written law, 'Love your friend,' and its unwritten companion, 'Hate your enemy.' I'm challenging that. I'm telling you to love your enemies. Let them bring out the best in you, not the worst. When someone gives you a hard time, respond with the energies of prayer, for then you are working out of your true selves, your God-created selves. This is what God does. He gives his best—the sun to warm and the rain to nourish—to everyone, regardless: the good and bad, the nice and nasty. If all you do is love the lovable, do you expect a bonus? Anybody can do that. If you simply say hello to those who greet you, do you expect a medal? Any run-of-the-mill sinner does that."
Matthew 5:43-47 MSG
As we attempted to understand this teaching in our discussion group, the kids tried to push its meaning by developing modern-day parallels. They would dream up an idea that was totally absurd, then ask if Jesus would still respond with love and kindness. Every time, I answered, "Yes, absolutely." 
At this, they were astonished because they just didn't think it was realistic. 
So, I told them about the religious leaders who would try to trap and trick Jesus to ruin his credibility, have him thrown in prison, and even to have him killed. Each time, Jesus experienced this, he responded in a way that was firm, reasonable, compassionate, and elevated those people if they wished to learn. 
Even at the point of his own death, Jesus was living out what he was teaching.
That was the moment that this seemed to click for them. It wasn't just a hypothetical "good idea" or "best practice." It's been done. And in some ways, it began to make sense to them, but at the same time, it was just so unnatural and foreign because no one acts like this around them. 
Their heads were spinning.
And this was when my favorite moment happened. This one thoughtful young man looked at me intently and flatly told me that I was crazy. "You are wrong. This is why I am learning karate. When someone hits me, I'm going to hit them back."
And he just might. And somedays, I might too.
I'm learning that it takes practice getting things wrong sometimes for us to figure out how to get it right. 
Daily Prayer
Jesus, you modeled enemy love like no other. Help me look at your example and lean into a better way of interacting with those who are difficult, rude, and hurtful. Teach me to pause and consider your wisdom when I want to lash out rather than act in love. 
Amen
If you aren't receiving the daily readings in your email and you'd like to, click HERE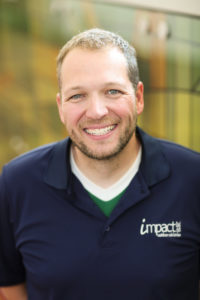 Since 2005, Ryan Gernand has worked for Impact 2818, a multisite Christian camping ministry in Indiana, where he oversees three of the camp's operations and programming, leads marketing and communication efforts for all seven sites, and works on fundraising and development initiatives. Prior to camping, he served as a youth worker for seven years. Ryan and his wife Kelsey lead Yorktown Connect, an after-school Christian ministry for fourth and fifth graders. Their goal is to raise their children to become counter-cultural reflections of Jesus Christ. The Gernand's joined the Commonway family in in 2018.