John 11:32
"Lord, if You had been here, my brother would not have died."
Most people have surrounded a loved one as they breathed their last breath. At times, it is a gentle and peaceful process as they pass from this life.
If this has been your experience, I thank God for you. He spared you yet another layer of grief, which has to be processed when you witness someone suffering in their final moments.
For my family, this was not the case when we lost my beloved aunt a few years ago.
From the initial call, she was being rushed to the emergency room on a beautiful July 4th afternoon, to her death ten days later; it was anything but tranquil. I can only describe the series of events that followed as extreme distress.
My aunt was dying of congestive heart failure at the age of 58. My precious aunt, who was born developmentally delayed, who had epilepsy, and who had already endured so many hindrances throughout her life, now had to undergo this. And there was nothing we could do to help her, except petition God for healing.
During her last week, we spent our time in the intensive care unit, desperately begging God for a miracle. We explained to her why she couldn't talk because of the breathing tube.
We had discussion after discussion with her doctors about her progress, or lack of most days, and we cried out in prayer once more.
During the day, we played worship songs and talked to her. We set up a vigil by her bedside as family members took turns spending the night to comfort her when she was alert and unsure of what was happening. Through it all, we offered a fervent plea to God for her recovery.
But remedy never came. Instead, came the meeting, because despite the pleading with God, her dire condition did not improve. We had a dreadful meeting with her team of doctors to make the final decision to take her off of the machine sustaining her life at this point. A meeting that seemed as though we were playing God and deciding her fate. A meeting where we were trying to process what was happening, but our thoughts and emotions were paralyzing.
And then we waited. We remained by her side and begged God for a last-minute, divine intervention. However, it never occurred. While I was sleeping on the hospital floor, I remember my dad shaking me and saying, "Melia, get up." And then, shortly before 5 a.m., she passed away.
I vividly recall the silence and the feeling of despair and devastation in the room after she passed. But even greater than the muteness in those moments was the sense that God seemed silent as well.
'Then, when Mary came where Jesus was, and saw Him,
she fell down at His feet, saying to Him,
"Lord, if You had been here, my brother would not have died."
John 11:32
Oh, how I resonated with these words at that moment. Did I believe and have absolute faith God could heal her? Absolutely. Was I bewildered, dismayed, and heartbroken when God didn't heal her? Absolutely.
Therefore, when Jesus saw her weeping,
and the Jews who came with her weeping,
He groaned in the spirit and was troubled.
And He said, "Where have you laid him?"
They said to Him, "Lord, come and see."
Jesus wept.
Then the Jews said, "See how He loved him!"
John 11:33-36
Hours after her death, my husband shared some thoughts which helped to console my family. He explained in the world we know, we have come to understand death as natural and just part of life. But in God's original design, death was not the plan. Therefore, we should not be shocked when death is afflicted and disordered.
After hearing his words, my mom was prompted to watch a video showing a butterfly emerging from its chrysalis. This phenomenon is incredible; however, it is also very volatile and intense. If its wings are touched or inhibited in any way, they will not develop properly, and the butterfly will be grounded for life.
I still have days when I wonder why God did not heal her and why He allowed us to witness the unspeakable things we saw as she was entering heaven's gates.
But on those days, I believe the real spiritual growth happens when I recognize the prayers that were answered. Her head doctor was a believer and ended the meeting by sharing scripture. She suffered for hours, but not days. Out-of-state family members were able to arrive in time to say goodbye.
And, although our primary prayer for her life to be spared was not answered, she is now experiencing something she never did on this earth. Just like a magnificent butterfly, her body is whole and fully developed.
Daily Prayer
Dear Heavenly Father,
Please guide me when I am in the midst of grave circumstances.
Give me peace when You seem silent.
Even when I feel like my prayer is not being heard,
give me assurance You are listening.
Help me to recognize the answered prayers in the chaos of life.
Help me to understand Your ways are higher than my ways.
Amen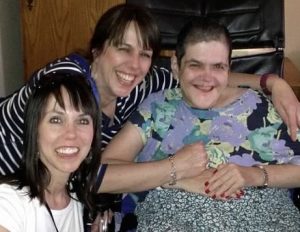 This is a picture of Melia Ozbun with her beloved Aunt Marty. Melia has the privilege of working with elementary students with special needs during the school year. Most days, she believes they teach her more than she could ever teach them, particularly about life and love. A Muncie native, Melia is a wife to an endurance sports nut, a stepmom to a middle schooler who currently knows it all, and a slightly obnoxious food snob. God's creation awes her and she is an avid camper, hiker, and kayaker. When she is not in search of good eats, she can be found in a nearby state park.
If you aren't receiving the daily readings in your email and you'd like to, click HERE.
Join us for Sunday at 10:00am for worship at https://commonway.churchonline.org