Luke 23: 55-56
The women who had come with Jesus from Galilee followed Joseph and saw the tomb and how his body was laid in it. Then they went home and prepared spices and perfumes. But they rested on the Sabbath in obedience to the commandment.
Saturday
The in-between.
The now and the not yet
The death has happened, the waiting is here, the end is unknown.
The one day, when the whole world knows Jesus is dead.
It isn't Good Friday, nor is it Ressurection Sunday.
Isn't it interesting that Sabbath is right in between Jesus' death and resurrection?
Jesus' friends and disciples obeyed the Sabbath rules and honored this day, even though the burial rituals were not yet completed. They paused to honor sabbath and resumed their duties the next day.
Are you in the middle of waiting right now? Are you grieving? Are you pretending 'everything is ok' or allowing yourself to live into the Saturday of grief? Are you desperately trying to skip Saturday to get to Sunday?
In my perspective, I often see culture saying, 'Sunday is here! Why be sad? You choose your responses to life, and Jesus has risen, (so essentially), move on! Be glad!' I have had to come back to learning the importance of honoring the Saturdays of grief. I have been learning to allow time between Friday and Sunday. And it has made Sunday SO MUCH MORE POWERFUL! Jesus overcomes what we grieve, but how can I truly know what is overcome if I haven't allowed myself to grieve? If I have lost nothing, grieved nothing, I need nothing. And yet, it is really hard to feel, as Jesus did on the cross, "God, why have you forsaken me?' I would rather move on to the truth that God has overcome. But, skipping the Saturday has made me unable to see what exactly is Good News. What exactly has Jesus done for me, for you, and for the world? Why would I pursue telling others of this radically Good News if I haven't really seen it? Or rarely see it? So I am growing into Saturday. It's hard to sit in this space sometimes. Many believers over time have called it a 'dark night of the soul,' when God seems silent or absent, or when we grieve who we wanted God to be, or when we grieve the suffering of our life.
This is Saturday.
Sit here. The deeper we know the fullness of this day, the deeper we know God's deep, pure, unconditional LOVE for us, and the joy of Resurrection Sunday. We, then, give this Love to others, and we see the intense motivation to share this Good News!
Daily Prayer
Oh LORD, May we Sit here. May we know a deeper fullness of this day, that it may bring a deeper experience of You, ushering us into the joy of Resurrection Sunday.    Amen.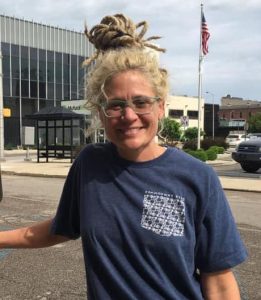 Liz Carder is a Muncie native and enjoys living in Indiana with her family, where she is convinced there are the most beautiful sunrises and sunsets. Liz celebrates a good cup of coffee, riding horses, exercising with friends. She is thankful for good friends and loves volunteering in Commonway Kids.
Join us for Sunday at 10:00am for worship at https://commonway.churchonline.org